66 Negative and Positive Feedback For Colleagues Examples
Feedback is the engine of great organizations. As an organization deploys its duties towards humanity, it is important to create a system through which feedback is gotten. This will in a great way improve the performance of the organization and serve the community in a better way.
While that is said, every worker also requires some occasional feedback to make them improve on themselves. No matter how functional a colleague is at work, he/she can always perform better than what they have been doing provided that the right atmosphere is created. One of the ways to create such an atmosphere is by giving positive feedback for colleagues examples.
There is no one you will say good things about that will not appreciate it. Positive feedback colleagues examples will raise positive people and thereby dominate the environment with positivity. Some colleagues may not currently be functioning at their best, but if positive things are said about them while you give them the opportunity to improve on themselves, you will always see them turn out to be a better version of themselves.
Feedback can be positive or negative. Positive feedback tends to make people work harder, more proficient, and more profitable. Working with people without appraising them can make them lose vibes for effective functioning. Even though people are paid yet they must still be told thank you strategically. Are you looking for positive feedback for colleagues examples? Check them out here!
1. I am impressed with the job you have done. In fact, I am more than impressed. I am glad you have come this far. Don't relent, keep up the great work.
2. You have shown me that you are consistent in your duties. I like your passion and dedication to work. Thank you for being a great example of a great worker. Wish you success in your endeavors.
3. It has come to my attention that you always do your best to carry out effective tasks. Thank you for helping us to grow and become an enviable organization.
4. All of you have revealed your strength to make things better. I am grateful for choosing to work with you and gain professionalism in my duty.
5. Thank you for helping us to make our clients patronage us more. You have been a great system for the success of the business. This we appreciate and we will never take for granted.
6. I have rarely seen colleagues like you since I started working. You are just cooperating in your ways. I appreciate your exceptional qualities in our firm.
7. Your ideas have become a good factor for the company to grow and achieve its aim. Everything has been changing for good recently. Thank you so much for being with us.
8. I know that you may not know; I have been monitoring you recently. All I can see is that you are doing a great job with your efforts. Thank you, dearest colleagues. Keep working hard!
9. I expect to see more of your positive work but you have exceeded what I expected from you. You are the best colleagues any company will love to have. I wish we had more of you!
Related topic: appreciating someone with words
Giving Feedback To Colleagues And Examples
10. What I like about you is your willingness to help me every time and also work with others without sentiment. Thank you, my helpmate. Everyone in this organization loves you!
11. You did a great job when I wasn't around. I was surprised to see the workloads on my table had been done. You are an ally that can be trusted and dependent upon.
12. I would like to compensate you for a job well done so far. Your input is second to none. You just make my work easy and especially for our organization.
13. You have shown the quality of effectiveness and efficiency in your duties. Thank you for showing us a pattern of diligence and perseverance!
14. Let me know if there is anything I can do to reward you for your kind gesture to the organization. All of you are amazing and fun to work with.
15. Thank you for delivering the job within a quick turnaround time. Don't relent. Just continue cooperating with us, paydays are on the way.
16. I am glad to tell you that our plans have become successful. All thanks belong to you for making things easy for us and the organization.
17. I admire your honesty, you show the quality of integrity that you have. Continue to be the real you and never let anything change your good personality.
18. Each of you will be compensated for what you did. Thanks for becoming part of the success story of (company's name). We appreciate you even though we cannot appreciate you enough for everything.
Constructive Feedback Examples For A Colleague
Some constructive positive feedback for colleagues examples are here on this page for your use:
19. You have been a good colleague to me but I noticed that there is a little change in your work recently. Feel free to talk to me if you are going through any challenges.
20. I would love to call your attention to the things I see in you. You have not been doing effective work and it has started showing in your attitude. Be encouraged and keep working!
21. Your passion for work makes me happy. I will be looking forward to seeing more of your good work in this industry.
22. I want to let you know that you have been doing efficiently in your duties, and your performances are out of this world. More power to your elbow.
23. I respect you because of your diligence and honesty. We can entrust everything into your hands and go to sleep. I will like to reward you positively someday.
24. Your consistency makes me happy one of these days. I believe in you from the first day you stepped into this great company. I really appreciate your efforts so far.
25. The request to go for further learning will be granted. You are one of my best colleagues and I believe that you will do more when you come back. We will miss your participation and contribution.
26. If I am asked to pick a colleague to work with, I will choose you over and over again. You are just amazing. Thank you for showing yourself to be reliable and easy to work with.
27. Your positive character is what keeps me going forward even when I'm out of inspiration. Continue your good works, your rewards are on the way.
Related keyword: praising someone with words
Negative Feedback Examples For A Colleague
28. You did the worst job which I didn't expect. I hope to see some changes in you very soon. Please, work on yourself and improve.
29. I am giving you the last warning. The work you are doing these days is not encouraging. If you repeat the same thing next time, you may be suspended.
30. I have gone through the work and I realized that a lot of mistakes are there. Please, make the necessary corrections immediately so that we can be on the same page.
31. This shouldn't be coming from you. I know you to be a hardworking colleague but you have started relenting. What has been going on around? You may share with me to see if I can help!
32. We lose the contract because of your carelessness. Don't let it repeat itself as this may attract some penalties.
33. The goal of this company is to provide quality service to people but you are not in line with it. Let me know if you need help with the techniques of the task.
34. The success of a company depends on the systematic procedure of the company. Your attitude has not been helping the company to grow as fast as we expect.
35. I trust your talents and passions when you started working with us but you are creating another impression of yourself now. I don't like this, please, do make an adjustment.
36. I expect you to do more than this knowing that so much is required from you, You did the wrong job for the first time. Amend next time.
37. You have been doing this before and I have warned you several times. I am allowing you to change this time. Any other mistake will make you lose the job.
Positive Messages For Colleagues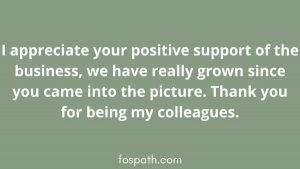 38. I appreciate your positive support of the business, we have really grown since you came into the picture. Thank you for being my colleagues.
39. You did a great job again and this highly appreciated and will be compensated overtime. I know that you will not disappoint me.
40. Good colleagues are not cheap to find but you make it easy to work with them. It is nice working with you.
41. Your ability to face high tasks motivates me to make you my colleague. I will always want to have you by my side.
42. When I started working with you, I thought you will be strict but you proved me wrong. Thank you for being easy colleagues. Working with you is fun.
43. Your enthusiasm for work makes me proud of working with you. I hope we can be productive to the organization together as a single unit.
44. I am glad you allowed me to learn new tips from you. It has assisted me in carrying out my duties.
45. Your ability to accept me with my weaknesses is appreciated. I cannot just appreciate you enough, thank you for everything you are doing for me.
46. You are indeed an inspiration to me, when I see your face, I get inspired. Thank you for your cooperative role in my life.
47. I am blessed to have you as my colleagues. Thank you for being superb for this firm. I do appreciate you for all that you are doing.
48. The first day I started working here, I know that you will be the best colleagues to work with. You have made yourself reliable. Keep it up!
Related topic: staff appreciation quotes 
Best Message To Colleague
49. You bring in much joy to us from your first day of working with us. You are indeed a blessing to this firm.
50. The incredible work you are doing makes us grow and we must admit that we have never been the same. Thank you!
51. I would like to use this medium to appreciate you for your hard work. Thank you for being an inspiration and encouragement to me always.
52. The best way I can reward you is through the use of this text. You are just amazing in your way and creativity.
53. It won't be good if I don't appreciate you for your hard work. You have been doing excellent jobs for us.
54. There will be always good days and bad days but you have learned how to manage them all. Thank you for making it lively to work with you.
55. Your dedication to work makes me see you as a mentor and superior. I am glad I followed your steps.
56. You inspire me to put in my efforts every day. I have learned a lot from you within the few years of working with you.
57. I am grateful for choosing you as my colleague. Thank you for being the best for this organization, I'm grateful.
58. You remain my best colleague ever. You have never disappointed me for once. Continue with your kind gesture.
59. Thank you for your advice to make my work easy to carry out. I know you will succeed more than ever before!
Poor Performance Report Sample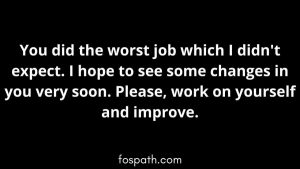 60. You have started coming late to work. This is unlike you before. Try and make adjustments so that our organization won't be affected.
61. I think you need to go for further learning. You didn't have the skill to execute most tasks as we see in your latest performance.
62. You are always late for presentations and it has made us lose a lot of contracts. Please, let me know if I should look for someone else.
63. You promised to work hard when you came for the interview. I have not seen any sign of that in you. Please, kindly adjust and do things better than before!
64. You need to improve your effectiveness and efficiency skills. What you are doing is nothing to talk about.
65. You are lagging behind your colleagues. Make a difference next time and make yourself proud of yourself.
66. You need to portray an effective leadership style. Don't repeat the same mistake next time.