54 Positive Things To Say About A Coworker
Human beings respond to words of appreciation and admiration. If you want anyone to serve you well and always be there for you, then you must learn how to say thank you for all they have done for you. Until you learn how to say positive things about a coworker, you cannot have a healthy environment for your work. The path of appreciation is always the great path to walk.
Saying positive things to a coworker is one of the best ways to express your gratitude for any help rendered to you. It can help you make the working relationship stronger. Find time to treat your coworker like a friend, not like an outsider. Positive things to say about a coworker will help you find the right word to say.
We often overlook appreciating our coworkers because we are used to their services. The fact that you are enjoying the services of a fellow worker should not make us take them for granted. No matter how little their good deeds appear, learn to say thank you and say a positive and encouraging thing about them.
In this article, you will find positive things to say about a coworker. This will motivate them to be of help to you whenever the needs arise whether at the workplace or in other areas. Positive statements strengthen the bonds among workers and help the synergize to function better.
Examples of Positive Comments For Coworkers
Positive things to say about a coworker is the way to pass a good comment about them. Every organization should have a scheduled time when they say good things about their workers to their ears. When this is done, every worker feels elated and appreciated and thereby increasing their functionality at the workplace.
In this article, you will find some examples of positive comments from coworkers.
1. Thank you for putting your effort to make the client pay for the service. Your focus and determination are appreciated and will always be compensated.
2. You achieved more than I expected from you. I know that you are a great person from the first day you stepped into this office. Your services are always recognized!
3. You demonstrated the qualities of a good coworker to me. I would like to let you know that I see you as a role model and I will strive to be like you.
4. The job was very tough when I started. I do not know that I can get to this stage until you came into the scene. All thanks to you for your support and encouragement.
5. Your positive attitude towards the member of the organization has gone a long way in assisting us every day. That's the kind of trait you should continue exhibiting. You are a wonderful personality to work with.
6. I noticed that you are energetic and committed to the rest of the team. Without you, we could not have come this far. Thank you for the support.
7. I just want to use this opportunity to let you know that all the efforts you've put into the work will be rewarded soon. Thanks, I appreciate you.
8. Hardworking is an understatement when it comes to describing your diligent nature. My desire to continue working with you makes me happy. I look forward to achieving a lot from you.
9. The project has become a success story because of your commitment. You deserve an accolade for your hard work. Thank you always for what you are doing in our industry.
Related topic: appreciating someone with words
Words of Appreciation For A Coworker
10. Thank you for giving me some help on the task. You did a great job for me when I needed help the most. Continue to be the amazing person that you are.
11. I know you to be a companion and a supporter. I trust your talent and credibility over the years. Thank you for standing for me.
12. I was amazed by the job you did when I wasn't around. I see myself lucky to have you as a coworker and helpmate.
13. If every organization has someone like you, it will be one of the best in the world. I couldn't have asked for a better coworker than you. Thank you so much, I appreciate it!
14. Even if you didn't say it, I can see all your efforts towards the growth of the company. Your everlasting support has motivated the rest of us to keep doing our best every day.
15. You are not only a good coworker, but you are also an angel to the company. Since you resumed the office, everything has changed for good. I am looking forward to a more fruitful working relationship.
16. You are an inspiration to us all. Your hard work and commitment are very much appreciated. You have been doing good jobs recently and we all appreciate them.
17. Thank you for not being a liability to the company. Working with you has been amazing from day one. Everything you are bringing to the table is highly appreciated, keep working we do really appreciate you.
18. I don't know a better way to thank you for your efforts but manage this. Thank you for helping me to grow and become a more efficient worker.
How To Compliment A Female Coworker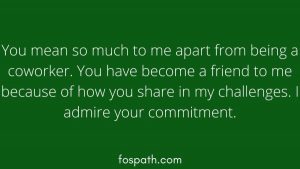 19. You are different from the rest of all, you exhibit a unique character from the rest. I'm glad for having a problem-solver around me. I appreciate your creativity when it seems all hope is lost.
20. I can't believe that I have someone amazing working with me. You are just an extraordinary personality. Keep up the good work.
21. You mean so much to me apart from being a coworker. You have become a friend to me because of how you share in my challenges. I admire your commitment.
22. I am amazed because you have never ignored your responsibility in my life and in this industry. I like your energetic and positive attitude towards this industry.
23. I still don't know the secret behind your hard work. You are so resilient and energetic. Continue to be doing great work as you have always been doing.
24. Your partner will be lucky to have someone like you. You are incredible and a good working partner. Thank you for being a blessing to me and our industry.
25. I am jealous of the leadership trait you exhibit. You make our work easy by giving us well-detailed instruction. I enjoy working with you.
26. It has been an interesting experience working with you in recent years. I wish I could stay with you forever in the company. I have learned a lot from you and I am always willing to learn many more things.
27. I have grown in knowledge from my first day here. You allowed me to learn from you every day. Thank you so much for being there for all of us!
Related keyword: praising someone with words
Words Of Appreciation For Coworkers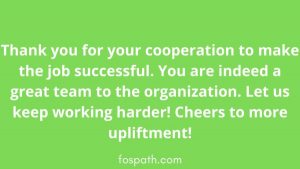 Words of appreciation for coworkers can help you keep a long-lasting relationship with your coworkers. It is a great way to express your gratitude for any help they rendered to you when you need them. Below are 9 fantastic words of appreciation for coworkers.
28. Thank you for your cooperation to make the job successful. You are indeed a great team to the organization. Let us keep working harder! Cheers to more upliftment!
29. You have been a treasure since all of you started working here. Your hard work and passion are felt by me. Keep up the good work, we will always appreciate you.
30. I was afraid you couldn't do the project but you surprised me by completing it beyond my imagination. Thank you for being an asset to the company and specifically to me.
31. Despite the workload on your table, you find it worthy to assist me with my tasks while I was away from work. Thank you for being an angel of success in my life.
32. You make a difference from the people that I have been working with before. I don't know what I will do without you being in the office. Your contribution is always noticeable and commendable.
33. I am amazed by the potential you exhibit every day, you have projected consistency and steadfastness at your duty post. Everything you are doing is extremely appreciated.
34. I see myself lucky to have you as a coworker. I appreciate your commitment. Don't hesitate to let me know when you need my help too. I will always be there for you just the same way you have been there for me.
35. Your energy to work better always make me proud of you. I would like to compensate you for your hard work and consistency over time.
36. You deserve all the good things that are coming to you. You have done great work to make the company grow. As you grow the company, may your career also grow. Cheers to more great achievements!
One Word Compliments For Coworkers
Showing compliments for any help will not only help you to improve your relationship with people but will also motivate them to help you next time. The appreciation shown today is an investment to get more help tomorrow.
In a professional line, you should find it worthy to send word compliments to coworkers anytime you deem it necessary.
37. Thank you for always coming through. I admire your confidence and willingness to work. You have shown a good example to me.
38. I asked for a little but I got more than I needed from you. I couldn't ask for a better working partner. You are such an incredible person to me!`
39. Your positive attitude towards work cannot be overlooked. It's incredible! Keep up the good work, I appreciate you.
40. I like the fact that you always yield to corrections. Your work has been great recently and I cannot but say a big thank you. Don't relent, you can still do better.
41. Thank you for bringing innovations to me and our industry. I am grateful for learning from you every day.
42. Your works are always unique and show credibility. Accepting to work with you is the best decision I have ever made.
43. You inspire me not to relent when carrying out my duties. It's always fun working with you every time.
44. You always remind me of my mentor. I looked up to him to be a greater person in life. When I met you, I realized that you possess the same quality as him. Thank you for being an inspiration to me all the time.
45. You don't use to hide your ideas from me and I like you for that. Thank you for being my teacher in the office.
Related topic: staff appreciation quotes 
Positive Things To Say About A Coworker In A Review
46. You have been doing a great job recently. I love your passion for work which has assisted us in different ways.
47. Your leadership style and trait make it easy for us to flow with you. I appreciate your kindness to all of us.
48. You did a fantastic job when handling the project. Thank you for coming to work with me and for this industry.
49. I know that you will never disappoint me. Thank you for doing an incredible job again!
50. I look forward to seeing more of your great works. You are a useful coworker to me and the rest worker.
51. The determination you have to do the project still amazes me. I do not believe that you can come this far. Thank you for your efforts, I appreciate you.
52. You know how to make people around you happy and enjoy work. Your jokes keep everybody flowing when working. What a sweet person you are!
53. I have been able to do things I couldn't do before because of your contribution and participation. All thanks belong to you for treating me like a friend.
54. Your work was well detailed and excellent. From all of us at (company's name), we are saying thank you for doing an amazing job.
Positive words will always help you a lot in your place of work. I believe you have found the right word to send to your coworker.
If you haven't said any positive words to your coworker before, do it today and you will build a stronger synergy.