12+ Convincing Confirmation From God On Who To Marry to Give You Clarity in Choosing a Life Partner
Since the beginning of time, marriage has been a sacred institution in many societies and religions. Marriage, in the Christian faith, is God's way of establishing His kingdom on earth. Any marriage that will be a success must have as its cornerstone as God. God and all that He stands for must be placed first then others will follow. A marital union that follows this pattern is bound to be a heaven on earth affair.
If God created the marital relationship between a man and a woman, I think He will be the best person to be consulted when making decisions related to this. Confirmation from God on who to marry is very vital to the success of a marital union. Are you looking to God for confirmation on who to have as a life partner? This article will help you with that as it would give you precise direction on how to confirm from God on who to marry.
A mistake in marriage is an irreversible one that stains one's garment and for this reason, the insights produced in this article are written to help you avoid such mistakes and guide you on how to identify a Godly life partner that suits your purpose in life. Mistakes are avoidable when you choose to see with the Lord's eyes. If you will consult the Lord, you will never be insulted!
Can God show you your husband/wife in a dream? Yes! He can! God speaks often, it's important we find out how He speaks. He does speak through visions, dreams, and other signs. When God reveals your husband or wife to you, unusual peace and love will baptize your heart. How to know if God sent you here to be in a relationship with a particular person is the amount of peace that you enjoy in your soul.
Are you trusting God to find your mate? Do you seek confirmation from God on whom to marry? There're signs God will point you to to identify the partner he has for you. Delve into this piece to find out and have your mind transformed on Godly marriage and relationships.
How Does God Bring a Man and a Woman Together?
God is still very much involved in matchmaking as the Holy Writ has made it clear in Genesis 2:24 and Mark 10:9. He wants marriages to be a reflection of His kingdom so He is very intentional about those He matches. Marriage, to Him, is for His glory so the two opposite gender involved must be aligned to His view and purpose of marriage.
Our Lord has the means of bringing people together for marriage. In this article, how God brings a man and a woman together for marriage shall be explored. When someone comes into your life, God sent them for a reason. God will place the right person in your life, yours is to identify him/her and explore the reason for which he/she was sent.
Marriage is sacred and must not be taken lightly. One must align with God to have a successful marriage. Here are four ways through which God brings a man and a woman together for a blissful marital union which can also serve as a confirmation from God on who to marry.
#1. Alignment
One of the ways through which God brings people together is in alignment and this is alignment to His will and purpose for their lives. A man who is not in God can not have a marriage with God as the central focus.
Alignment occurs when a man accepts the finished works of salvation. In Romans 10:9, Apostle Paul, wrote, "if you believe with your heart and confess with your mouth that Jesus is Lord, you will be saved." Alignment continues from here when a man begins to feed on the Holy Writ. He feeds his soul which is connected to his spirit which is connected to God. God's will is discerned by the inner witness of the Holy Spirit living in a man. Through alignment, God can bring a man and woman together.
#2. The Bible
The picture of the future is in the scripture. Paul, by the Holy Spirit, wrote in Hebrews 4:12, "The word of God is living and active. It is sharper than any double-edged sword, it penetrates even to dividing soul and spirit, joints and marrow; it judges the thoughts and attitudes of the heart".
This reveals the power in the Bible. God can through his Word bring two people of the opposite gender together for marriage. The Bible remains a central authority on marriage and there are Bible verses that point out the kind of partner to look out for for a blissful marriage.
It is written in the book of Ephesians 5:22_25, "wives, submit to your husbands as you do to the Lord since Christ is the head of the church and saves the whole body, so is a husband the head of his wife; and as the church is subject to Christ, so should wives be to their husbands, in everything. Husbands should love their wives, just as Christ loved the church and gave himself for her."
Through powerful verses like this, God can lead a woman to her life partner as one of the virtues a man must look out for in a woman is submission. A virtue a woman must seek out in a man is love and excellence. Excellence in all he does. He must also possess vision. These can be found in the Holy book.
Boaz was a man of vision and excellence. He had a large farm on which Ruth came to glean grains. Ruth was hardworking and submissive. These virtues, God used to bring them together. Solomon, in his meditation, stated in Proverbs 22:29, "if you see a man excellent in his work, he will stand before kings and not before mean men."
#3. Purpose of Life
A man who has not discovered what he is to live for lives a wasted life. God designed man for a purpose and a life partner suited to help him. Adam's life purpose was to tend the garden of Eden while God made Eve to duly assist him in this purpose. The purpose is one of the ways through which God brings a man and woman together. A man who hasn't discovered his purpose shouldn't get married as he will live a frustrated life. When a man has a purpose for the breath he breathes in, God finds a partner suitable for him and thus brings them together.
#4. Prayer
Prayer means communication with God. God brings a man and woman together via prayers. Intending partners seek God's mind in the place of prayers on marriage for the Holy Scriptures instruct us to pray without ceasing. Through prayers, mighty things are done.
Read also: signs God wants you to get married to someone
Tired of Waiting God for a Husband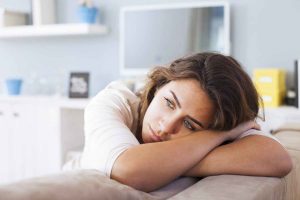 As a woman, you're nearing your menopausal age and you're yet to find a Godly husband to marry. God seems not to be speaking again as you feel all alone now. You begin to doubt if you heard God in the first place and you're tired of waiting on God for a husband. Why God makes us wait for marriage? God makes us wait so that we can be prepared before we find the person that is meant for us.
When God makes you wait for a spouse, wait until you see why God made you wait. Patience is no patience until you have exercised it enough. If God is making you wait, be prepared because He's got the best for you. When it's appearing late, then be ready for the latest from God. If God is making you wait, you're in good company because you will never be disappointed and you'll end up getting the best from God the giver of the perfect gift.
Are you tired of ungodly admonitions from all sides? Are you tired of waiting on God for a husband? May I let you know that waiting for the one God has for you is worth the wait? Your primary duty is to fall in love with the Lord first and He will give you the right person.
Here you will find guides on what to do and the steps to take to keep your trust in God. Delay, they say, is not dental. God has a beautiful end for you. Here are three things to do if you are tired of waiting on God for a husband.
#1. Look for the Blessings
We are often obsessed with a "wait" event in our lives, and we miss the other blessings God has in store for us. Every disappointment as said is a blessing, so rather than sit still, and wait for a husband, look for the blessings in the wait.
It's in the wait that God exercises our spiritual lives so that we grow strong. When your spiritual life is stretched, and you eventually get a husband, your lives become more meaningful. The wait is training and a blessing in disguise.
In the wait, your character is refined, you know what a man wants from a woman, you build capacity in finance so you don't become a burden to your husband, you also build capacity in Godly wisdom. As you eventually find that Godly man, you become a blessing to him, a helper suited for his vision. You'll become a Queen to him.
#2. Be a Comfort to Others
You do not only need to watch for blessings in other aspects of your Christian lives but you need to seek avenues to help and be a comfort to others. It's written, "Praise be to the God and Father of our Lord Jesus Christ, the Father of compassion and the God of all comfort, who comforts us in all our troubles so that we can comfort those in any trouble with the comfort we have received from God" (2 Corinthians. 1:3-4). Doing this removed the "me" focus to "God" focus in your Christian life while you wait.
As you wait for that Godly husband, shift attention from yourself to those in need around you. Reach the lost with the Gospel, help those who are struggling with sin and you will enjoy a peace that surpasses your understanding in your health. God trains you in the wait as you submit to His dealings.
One of the easiest ways through which you can rid yourself of pain is to focus on your purpose of existence rather than focus on your pain of waiting.
#3. Have a Deeper Relationship with God
The knowledge of God is guaranteed one success in life as one begins to walk in His will and decode His mind. In your wait, get busy with God in an intense relationship as this will help you know your frailties which He has to prune away. Study the Scriptures, Pray, and reach the unsaved.
Relevant post: apology message to your lover
How To Be Patient When God Makes You Wait
Waiting on God can be tiring and frustrating especially when it's for a long time and nothing seems to be coming out of it. You will, out of frustration, begin to think of alternatives and this may mean walking out of God's plans for your life. It's written in the book of Jeremiah 29:11 that, "For I know the plans I have for you," declares the LORD, "plans to prosper you and not to harm you, plans to give you hope and a future"
God is speaking here of His great plans for your life. Patience is the key to staying unto God while He makes you wait for a life partner. If God showed you your husband/wife but he/she is in a relationship, what do you do? Just wait on the Lord until He makes everything beautiful. Do not go about manipulating and or forcing yourself on someone, wait patiently until the Lord convinces the person.
Perhaps you are running out of patience with God. God is intentional about what He does and He makes everything beautiful in His time. It's understood that patience can be hard but it is needed. Do seek to know how to be patient with God when He makes you wait? Here are three tips to help you to be patient when God makes you wait.
#1. Find Repose In Prayers And Let It Be Your Rock And Your Guide
It can be frustrating going to God praying and feeling your prayer falls on deaf ears. Remember that He's God and He's in control of your life. Anything He does, He does it to make you better. Pray for patience, pray that His will, be done, and pray for His peace to settle in your heart.
#2. Read the Bible
Reading the Bible guarantees you of God's promises and makes you grounded in them. Study it and make the words the content of your meditation. The study of the Bible imprints God upon your heart firmly.
#3. Learn the Lessons
There're lessons to learn in the wait. Look out for those lessons and let them transform you.
#4. Rid your Heart of All Uncleanliness
Bitterness, forgiveness, anger, malice, and the like. These pollute your mind and make you unworthy before God.
Single and Waiting on God
Bachelorhood and spinsterhood are seasons of being single and these seasons can be daunting when one wishes to settle down with a life partner. One waits on God for His will. No one wants to live this life alone. Marriage is meant for procreation and companionship.
Are you single and waiting on God and you don't know what to do? Or you are saying, Go, I'm tired of being single and lonely or you are even asking, why is God keeping you single? Here you will find out why and what to do!
Singleness is a season where one learns, unlearn, and relearn. One builds capacity and prepares for marriage as marriage is a lifetime affair that must be taken seriously. On this page, you shall find five things you can do while you are single and waiting on God for a life partner.
#1. Network
Build networks. Have a circle of like-minds friends that can help you grow spiritually as this is very vital to your marriage. As a single Christian, you must know that God is the central focus of your marriage and your marriage is to his glory. Don't be unfriendly to those around you in your local church and at your workplace. Who knows if you might find your God-chosen spouse there?
#2. Be a Committed Member of your Local Church
This can't be brushed aside. The local church is God's perfect plan for Christian growth. Be committed to your attendance at a local church. You might consider worshipping at home but remember Apostle Paul who wrote in the book of Hebrews 10:25 that, "And let us not neglect our meeting together, as some people do, but encourage one another, especially now that the day of his return is drawing near."
Through your attendance of the local church, you stay committed to God, bond with other believers, and decipher God's will. Join the workforce of the local church. It could be the ushering unit, editorial board, choir, decorators, and the likes.
#3. Build Financial Stature
This can't be left out of things. Financial literacy eases some issues in marriage. Acquire knowledge on how money works, is grown, and should be spent. There're money principles in the Bible and it remains the best book on business and money principles. Other books will help also!
#4. Pursue Purpose
The purpose of your life must come first before your partner. One of the signs God is preparing you to meet the one you are meant to be with is to get you rooted in the purpose of your existence on earth. Let God guide you as to your assignment on earth and He will send you a helper suitable as it's the case of Adam. The understanding and the pursuit of your purpose must precede the search of a life partner.
#5. You must never neglect the study of the Word, Prayer, and Meditation
These activities mature you into who God created you to be. I prayed for a wife and God gave me. If He could do it for me, He will do it for you too.
Scriptures on Waiting on God for a Spouse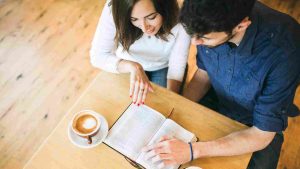 The Word of God is a powerful one and it's capable of working wonders. In it, one finds Godly and everlasting principles upon which one builds one's life. Unless one makes the word of God the meditation of one's heart, one can never harness the blessings and powers that lie within it. As you wait on God for a spouse, there're scriptural verses you can pray with and confess over that future partner.
Being patient with God bible verse or Bible verses about waiting for the right person strengthens your heart in the wait until the right person is found.
Confessing God's Word shows that you believe in it and you believe that God will fulfill the promises He has made in His Word. It further shows your conviction. When you use bible verses for praying for a life partner, you can be sure that God will answer your prayers and He will never deny His word.
If you're looking for scriptures to hold onto when you wait on God for a spouse, here are eight of them;
1. "For I know the plans I have for you," says the LORD. "They are plans for good and not for disaster, to give you a future and a hope" (Jeremiah 29:11).
This verse of the Bible urges you to have your hope and trust in God as He would not do anything to harm you. He has you in his mind and has not forgotten you.
2. "Seek the Kingdom of God above all else, and live righteously, and he will give you everything you need" (Matthew 6:33).
Let God come first in all you do and all that you seek will simply follow you. You are not created to struggle. Leave all to God, follow Him, and see Him work His wonders in and through you.
3. "Walk with the wise and become wise, for a companion of unwise suffers harm" (Proverbs 13:20).
Let this be a prayer for your future husband or wife. Pray that he/she surrounds his/herself with wise and Godly people. Wisdom is needed for a successful marriage. Pray that your spouse has wise friends who give him/her Godly counsel.
4. "Or do you not know that your body is a temple of the Holy Spirit who is in you, whom you have from God, and that you are not your own? For you have been bought with a price: therefore glorify God in your body" (1 Corinthians 6:19).
Since we have been bought by God through Christ, our bodies and whole being are no longer ours but belong to God the creator. Honoring God with our bodies guarantees a marriage of bliss. The marriage bed must be kept holy.
5. "Cast your burden upon the Lord, and he shall sustain you. He shall never suffer the righteous to be moved" (Psalms 55:22)
Cast your burdens out to God. You can't deal with the loneliness that plagues you at night. It's a burden to you. Pray to God, cast the burden upon him and he will give you peace.
6. "In the morning I lay my requests before you and wait in expectation" (Psalm 5:1).
7. "Delight yourself in the LORD and he will give you the desires of your heart" (Psalm 37:4).
Take pleasure in being with God. Derive delight in staying in the place of prayer and study and you will see your heart desires granted. Make it a habit to study and pray.
8. "I know the plans I have for you," declares the Lord, "plans to prosper you and not to harm you, plans to give you hope and a future" (Jeremiah 29:11-13).
Signs God is Leading You to the One
As God has spoken to people in the past, so does he does today. God speaks to people in diverse ways. He speaks through the inner witness of the Holy spirit, events, and the Bible which is the authority over our lives. He also speaks through signs. Do you want to know the signs that tell if God is leading you to the one? Patiently follow through.
Signs God is leading you to the one come in diverse ways but you should never forget the Bible which is the major source of guidance as a Christian. Due to widespread character defects in our world today, it becomes difficult to find a Godly life partner and this dims your receptiveness towards the signs God is using to the one. Despite these heartbreaks and divorce rates, there are still Godly people who still stand for God and God can lead you to them.
#1. Love Comes Naturally and is not Forced
A romantic relationship into which God leads you is not forced. A way to know if God is leading you into a relationship is that you don't feel a sense of being forced, and burdened to be in that relationship. A lot of people, in the name of being in a relationship, manipulate a wrong relationship into a romantic relationship.
Love is voluntary, a choice, and natural and not forced or, compelled. A relationship into which you ventured on your own volition by the help of the Holy Spirit is a sign God is leading you into it. The love comes naturally and is not forced. If you are forcing yourself to love the person to which you feel you are being led, check well before you go ahead.
#2. A Future You Can Picture In The Relationship
If you can't picture a future in the relationship, then you should look well before you leap. God, our righteous and loving Father, wants His children to enjoy blissful relationships, hence, He gives them signs that influence their choices. If you discern a future that includes you in it, then stay in the relationship and pray to God for guidance and His blessings.
#3. If The Partner Is Godly
Another sign God is leading you to the one is that the person He is leading you to love God. The Scriptures admonish us not to be yoked with unbelievers. A kingdom-minded partner and an unbeliever can't fare well in a relationship as such a relationship is like a musical dissonance, no harmony, and unity in mind and beliefs.
There is a dissonance in beliefs, thought, and mind. God would not lead His own into such a relationship. God leads you to a Godly partner who loves the Scriptures. One of the signs from God he is not the one is that he does not uphold the same standard of purity with you. God will not bring to your life someone who will not share the same value system with you.
#4. The Love in The Relationship is Mutual
God leads His children into fruitful relationships that will make them better. A relationship that devalues or dehumanizes you is not from God. The love in the relationship is mutual and this births the exchange of Godly ideas that make each of the partners better. This love covers all aspects of their lives; career, spirituality, finance, growth, etc.
#5. Readiness
God is deliberate about matchmaking. He would not lead unready partners into a relationship. He trains them through His Word to get them ready for a relationship that leads to marriage as He does not want His plans jeopardized. A sign God is leading you to a partner is the partner's readiness and your readiness. Readiness in the areas of views about marriage; is important as one's views on marriage influence one's attitude towards it, finance, spiritual growth and development, and purity.
Three Ways God Shows You Who To Marry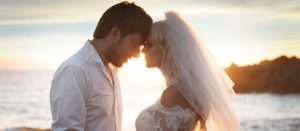 Marriage, an institution, established by God is an affair that must not be rushed. One must be careful so that one makes no mistake. The knowledge of God about marriage and its workings will steer one away from the eternal mistakes that dent one's Christian life. God shows you who to marry in different ways and this includes signs.
Do you desire to know the 3 subtle signs God is connecting you with someone? They shall be revealed on this page. Below you will find the three ways God shows you who to marry. When you apply them to your search for a Godly partner, it will bring positive results and you will live a perfect and beautiful married life with your God-chosen partner. Here are the three ways:
#1. Genuine and Burning Passion for the Things Of God
A burning passion for Him and all that he stands for is a sign God is leading you to who to marry. In the Bible, Christians are to marry only Christians as a union with an unbeliever will truncate one's vision and purpose. Marriage with a believer who has an undying love for God helps God's vision, plan, and purpose. A divine revelation about who to marry doesn't come all the time. You must learn to seek out a believer who loves God.
#2. Consecration
This is also a sign that God is leading you to who to marry. Is the partner consecrated to God or the world? This is a question you must settle in the place of prayer as Christianity is a call for consecration to God and total separation from the world and all its entanglements.
#3. The Partner is a Doer Of God's Word
Any partner God is leading you to must be a doer of the Word and not just one who peddles it with his/her tongue. Practicing God's Word unleashes the power buried within its pages and this is an ingredient that makes up a Godly marriage thereby establishing God's kingdom on earth.
Five Weird/Confusing Things God Often Uses To Reveal The One He Wants You To Marry
God is an awesome being who works in strange and wondrous ways. His ways are not our ways, so are His thoughts are not our thoughts. God often uses weird things to reveal the one He wants you to marry. This is to demonstrate His power and love for us and over our lives. In this section, you will see 5 things God will do in your life when you meet the one.
Read these five signs, apply them, and be blessed. God wants to demonstrate His power in you and through you more than ever before so He needs your cooperation. In wants to manifest Himself in your marital union and all other areas of your life. Let these five weird things which God uses to reveal that person guide in choosing a Godly partner of vision and purpose.
#1. God Will Bring You and Your Spouse Together in an Unusual Manner
God works in mighty and unusual ways. God uses unexpected events to bring couples together. Some couples have been brought together in unusual ways. Some don't like each other at first. Some, God brought together through hurts which are the exact opposite of each other(the woman has a feeling of being abandoned while the man has a history of betrayal and this hurts makes them bond seek. And some were brought together through social media. These are some of the strange ways by which God brings couples together. This is to improve each of the partners, making them better.
#2. You Will Both Have a Strange Level Of Acceptance For Each Other's Flaws and Weaknesses
This happens when love, God's love, reigns in the marriage. You will accept each other's weaknesses and flaws thereby making you two better. Marriage includes acceptance, respect, and love. You, as a man, might love to just bow your head and pray in silence while your wife might love to raise her voice in tongues. This seems to be a dissonance on the surface, but you can both accept each other.
#3. Your Difference in Spirituality and Character Traits Helps You Live a Perfect Union
God loves unity in variety. Your differences in character traits and spiritual make-up are weird things, God often uses to pair you two together. You might be an introvert while your partner, an extrovert. This difference can sharpen you both as the Bible says, " iron sharpens iron."
In your marital union, you will know when to speak and when to be mute. And this is a trait that God wants His children to have. In your spiritual traits, there could be differences that God could use to bond and unite you both. It's just like the church where there're manifestations of different gifts. You might be gifted with the word of knowledge and your partner, visions, and dreams. It's all to the glory of God.
#5. In Hard Times, You Will Stick To Each Other Rather than Be Apart
Hard times will surely come but they're not forever. As the saying goes, "Tough times don't last but people do last" so do tough couples who have been paired by God last.
Four Signs God Is Preparing Someone To Fall In Love With You
#1. God Breathes on the Person to Spend Quality Time with You
Love, at first sight, is a myth. Infatuation and obsession, at first sight, are possible, but it's not realistic to love someone you don't know. When you have basic information about the partner, like how he/she looks and how charming he/she is during first impressions, the feeling is just infatuation and this could spell great error.
A sign God is preparing someone to fall in love with you is that he/she spends quality time with you. A relationship is established then other signs from God follow. This leads to a happy marriage. When God puts someone in your heart, there is an unusual peace and satisfaction about the person in your heart. Sometimes, the external conditions around the person may not be appealing but an unusual peace in your heart will keep you going.
#2. God Gives The Person The Ability To Accept You For You Are
A problem with many Christian relationships is that one partner has failed to accept the other and wants to forcefully change him/her. Partners indeed have flaws but rather than trying to change such a partner, one should make the change on one's knees in the place of prayer. A partner God is preparing for you will accept you for who you are and not force you to change to his/her image and likeness. He/she will rather pray to God to purge you of your flaws and encourage you to be what God wants you to be.
This is a way through which God prepares someone to fall in love with you. Love covers a lot of things. The partner will accept you and see God in you. God wants us all to manifest Him and build each other up.
#3. Commitment
This is also a sign God uses to prepare someone to fall in love with you. Regardless of whatever happens, the partner stays committed to you. The partner will go to any length to improve the relationship with you. The partner is ready to invest himself in you. Marriage requires commitment. When both partners are committed to the relationship, the union will blossom and sail smoothly even when storms come crashing on their ship called marriage.
It's a sign that God uses to prepare the heart of your lover so he has a space for you in his heart and that space is occupied by you and you alone.
#4. If the person sees that his/she will be better with you in it and also sees God in you, then it's a sign from God
God has saved us from death and has planted His will and purpose in our hearts so believers who come together in marriage are to make each other better. If your partner realizes your value in Christ, he/she will stick to you.
The partner will see God in you and through you. And this births a marriage made in heaven and will be a saving grace to dying marriages and relationships as it's been ordained by God Himself, the one from whom the concept of marriage came.
How To Wait For The Right Man/Woman From God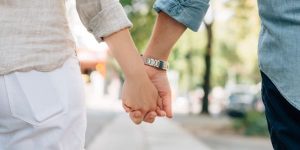 Waiting on God can be tiring
Being single can be hard but
God's time is the best
Waiting on God can be a daunting challenge especially when it seems one's prayer falls on deaf ears. A lot of female Christian singles never realize how to wait on God for the right man and this makes them frustrated and make wrong decisions in their choice of a life partner. For female Christian singles who want to marry a Godly man, Here are insights to guide you through.
As a female Christian single, trusting God for the right man, you need the knowledge of how to wait for God. Do you desire to know how to wait on God for the right man, three ways on how to wait on God for the right man shall be discussed here;
#1. God's Time Is Always Accurate
It's never too late with God and this can be proven from the Bible. Abraham and Sarah had Isaac in their old age and several other examples from the Bible. As a female single, you should never run ahead of God. Realize that God's time is always right and He makes everything beautiful in its season. Never cave in to pressure from those who know nothing about you.
Remember, God's time is always right He is never late in His actions. God has reasons for everything. His plans are geared towards your well-being and purpose in life.
#2. Be Committed To God
Your commitment to God deepens your relationship with Him in your time of waiting. Your spiritual eyes are open to certain things you ought to know and you will appreciate God for better for the wait. God wants a deeper relationship with you so get to know the things of His heart. In your relationship with God, your spiritual life blossoms.
#3. Be Joyous
Rather than stay depressed and wallow in self-pity in your wait for the right man from God, be joyous. Let the joy of God fill your heart as this will erase negative thoughts. How can you be joyous?
Delight in the Word of God
Pray out your heart to God
Speak to trusted and Godly friends as they will help when dark days come.
Be open to Godly friendships
Work on yourself; acquire a skill, learn something new
Be an active worker in God's business
When you do these things in your wait, God fills your heart with His joy that waiting doesn't seem burdensome to you.
Three(3) ways God will reveal the one to you is that Peace will fill your heart, Your purpose will align and your Pastor or Parent will agree.
I'm sure you have been blessed by this article, kindly share it with family, friends, and loved ones.